Profiles, Photos, Videos of Successful Filipinas (Pinay)
October 10, 2007 on 8:12 am | In
Pinay Actress
|
Do you remember watching Snow Dogs (2002)? You know, that Disney movie with Cuba Gooding Jr. Well Joanna Bacalso was that chick starring beside him as the love interest. She was Barb in that movie. I couldn't find anything about her. Nothing under portfolio, profile or agents - even nude searches just turned up with porn sites. IMDB doesn't have anything from her except her filmography, that she was born in Philippines, so I guess shes 100% filipina? And she's married to Matthew Garel since 1998 with one child. I'm surprised that there isn't anything more on this sexy and elegant Filipina actress. Her latest movie is Mysterious (as Sherry Pace). She also starred in 2004 movie My Baby's Daddy. Bascalso's other movie roles include Bedazzled, Gangland, Dude, Where's my car? and Woo. However I did find something. I think she is into photography now and has a business called, "Joanna Garel Foto". This website notes this in their profile about the business:
"Joanna started her career as a model/actress. She discovered she loved
being behind the camera 7 years ago and started shooting family and friends.
Referrals came in abundance and since then her clients have included:
AT&T, SURFER Magazine, FORD MODEL MANAGEMENT and numerous clients for headshots, weddings, fashion as well as Industrial Photography with Mike Bubalo Construction. Joanna loves to make people look good and she believes
this is only accomplished with her natural ability for making people
comfortable when working in front of the camera,  she loves to create a naturally fun environment for her subjects and clients ."
Hopefully we'll be seeing more of Joanna Bacalso in future…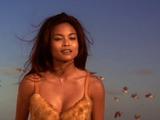 Joanna Bacalso in some German TV movie
Joanna Bacalso at the premiere of Down And Out with the Dolls (03-11-03):
And from the premiere of My Baby's Daddy (01-08-04):
Related Posts
No related posts
No Comments yet »
RSS feed for comments on this post. TrackBack URI
Leave a comment
You must be logged in to post a comment.