Profiles, Photos, Videos of Successful Filipinas (Pinay)
October 8, 2007 on 10:29 am | In
Pinay Actress
,
Pinay Model
|
We're revisiting Natassia Malthe (nude!). We first covered Natassia last week. This time we're going to look at her acting career. Malthe has been in quite a few movies and TV shows.  Sometimes she is credit as Natasha Malthe or Lina Teal. She was in 'DOA: Dead or Alive' (2006) as Ayane (The purple haired girl), you know that video game movie with Jaime Pressly, Devon Aoki and Holly Valance. Her latest movie is more of a drama and is yet to come out: 'The Other Side of the Tracks' where she plays Lucinda. She played a small role in 'Sex and Death 101′ (2007) as Bambi (the movie also had Winona Ryder). Natassia Malthe also starred in some Sci-fi shows as well like "The Dead Zone", "Dark Angel" and "Andromeda". She's starred in many others but too many to mention here…
Enjoy Natassia Malthe's beautiful nude photos below. I love how she is just having fun in the photos, wouldn't you agree? I also like how the hair was done - suits the photoshoot style as it adds volume into the photo.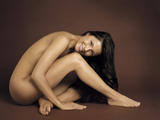 Related Posts
No Comments yet »
RSS feed for comments on this post. TrackBack URI
Leave a comment
You must be logged in to post a comment.