Profiles, Photos, Videos of Successful Filipinas (Pinay)
July 3, 2007 on 2:10 pm | In
Pinay Entertainer
|
Cassie Ventura - or she usually just goes by "Cassie" was born on August 26, 1986. Cassie is an is an American R&B and pop singer, model, and actress. She is best known for her 2005 single "Me & U", which became a hit in 2006. Cassie Ventura is trilingual, being fluent in English and conversational in Tagalog and Spanish.
So how does Cassie qualify to be a pinay? Well, her father is a Filipino and her mother is African-American/West Indian/Mexican. And how did she become amous? While she went to The Williams School, a preparatory school on the Connecticut College campus, she began to model from age fourteen and was starting to get jobs in advertisements for Delia's, Adidas, Abercrombie & Fitch, and Seventeen. Once finishing school in 2004 she was in New York, modeling for Abercrombie and Fitch. She modeled for Wilhelmina Models. She took classes at the Broadway Dance Center. Producer Ryan Leslie began spotting her at clubs and parties in late 2004, later saying he was charmed by her personality. She was finally introduced to him by Sean "Diddy" Combs' make-up artist, who had worked with Ventura on one of her modeling assignments.
Shortly after being introduced to music producer Ryan Leslie, Ventura's mother supposedly asked Ventura to record a song for her as a birthday gift. Ventura approached Leslie, who wrote a duet for them called "Kiss Me". Leslie played the track for Tommy Mottola, who offered Ventura a management deal. Ventura inked a deal with Leslie's NextSelection label. Leslie also co-wrote and produced Ventura's first single, "Me & U", in 2005. By March 2006, Ventura had signed with Diddy's record label, Bad Boy Records. Billboard magazine reported that Ventura's second album is to be released in the U.S. on September 18, 2007. Cassie has made an appearance in the Kanye West music video "Stronger".
The photos below are from Cassie's arrival at the TJ Martell Foundation's 8th Ave Family Day at Roseland Ballroom on March 4, 2007 in New York City, USA. Her Official website.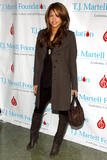 Related Posts
1 Comment »
RSS feed for comments on this post. TrackBack URI
OMG! i did not know that we were pinay like me!!!
i luv your song me and u its like one of my favorite song well i was saying that if u need a
friend ill be here 4 u as a fan or friend i hope that u could send me back a message well bye !!

Comment by cloe — July 20, 2007 #
Leave a comment
You must be logged in to post a comment.